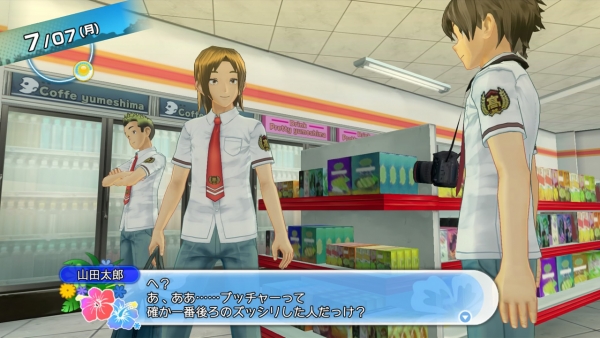 The latest set of Natsuiro High School: Seishuk Hakusho screenshots introduce NPC characters Shigeyuki Tsukaki, Housaku Buchitani, Jin Kakei, Yukari Hyoudou, Rumi Saionji, and Akari Hoshino.
As previously detailed, here are the descriptions for each:
Shigeyuki Tsukaki – Sits next to the protagonist and talks to him from his first day. Depending on how you play the game, he can become a close friend.
Housaku Buchitani – His nickname is Butcher. He loves 2D girls and is your standard otaku. Depending on how you play, you can become friends with him. He is a friend of Shigeyuki's.
Jin Kakei – His nickname is Kaseijin, or Martian. He's a member of the Science Club who's not so great with girls.
Yukari Hyoudou – A school perfect rumored to be a real sadist.
Rumi Saioonji – She has a lot of manservants, given that she's so thoughtlessly cute. She's running for student council election.
Akari Hoshino – The president of the Astrology Club whose trim looks and thoughts about the universe are second to none.
Natsuiro High School: Seishuk Hakusho is due out for PlayStation 4 and PlayStation 3 in Japan during June. View the screenshots at the gallery.