Inti Creates announces Azure Striker Gunvolt 2 and Gal Gun sequel
New titles announced at Inti Create Fan Festa 2015.
Inti Creates announced two new titles during its Inti Creates Fan Festa 2015 at Harajuku Astro Hall in Shibuya today.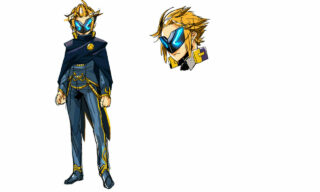 Following the success of last year's Azure Striker Gunvolt, Inti Creates is developing a sequel for 3DS. Further details were not announced, but director Yoshihisa Tsuda shared artwork teasing a mysterious "Masked Man" boss.
Thanks, Inside Games.
Gal Gun Sequel (Platform Unannounced)
The next game in the Gal Gun series is in development under publisher Alchemist. Set at Sakurazaki Third High School one year after the events of the previous game, the sequel to the PlayStation 3 and Xbox 360 rail shooter (or "3D gun shooting game") is built on the Unreal Engine. Inti Creates shared a teaser trailer at the event, introducing characters Shinobu Kamizono, Maya Kamizono, and Kurona.
The new Gal Gun is due out in Japan later this year.
Visit the series' official website here.
Thanks, Inside Games.