First Digimon Story: Cyber Sleuth gameplay live stream slated for March 2
PS Vita RPG due out on March 12 in Japan.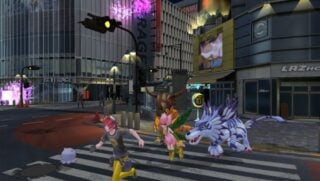 Famitsu will host the first raw gameplay live stream of Digimon Story: Cyber Sleuth for PS Vita next Monday, March 2 at 20:00 Japan time, the outlet announced.
The broadcast, which will stream via Niconico, will feature Megumi Han, who is voicing the game's Nokia Shiramine character, as well as Famitsu presenter Bunbun Maru, gamer angel Shiki Aoki, Bandai Namco Games' Kazumasa Habu, and Sound Prestige's Masafumi Takada. It will take a look at systems such as Digimon training and battles, as well as battles against other players.
The game itself is due out for PS Vita in Japan on March 12.