Everybody's Gone to the Rapture enters alpha stage
"We're hurtling straight towards Beta and then Gold."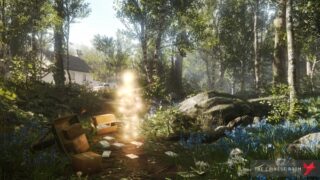 Everybody's Gone to the Rapture has entered the alpha stage of development, The Chinese Room announced.
What does alpha mean, exactly? "The back half of development is all go, ramping up detail in all angles, integrating stuff like crazy, polishing the hell out of anything we can… and the bugs," the studio said in a blog post. "It's all about the bugs. So by this point the world is locked, scenes are locked, we know what is happening where and when and why and how, but there's a big difference between that "it works" and "it's a great game", which is where we all want it to be."
From the alpha stage, the game will head towards beta, and then completion.
Quality assurance testing is beginning with both Sony's internal teams and The Chinese Room's new in-house QA tech. And in a month's time, the orchestra and choir will record the game's score. From there, the game's audio will be overhauled and tuned to each other to match its soundscape.
Don't expect to see Everybody's Gone to the Rapture at the Game Developers Conference next month. The Chinese Rooms says it'll be too busy developing the game to release any new video or screenshots, or do any press interviews.