Eater enemy has several evolutions in Digimon Story: Cyber Sleuth
Plus, new Keyword and Digi-Line systems detailed.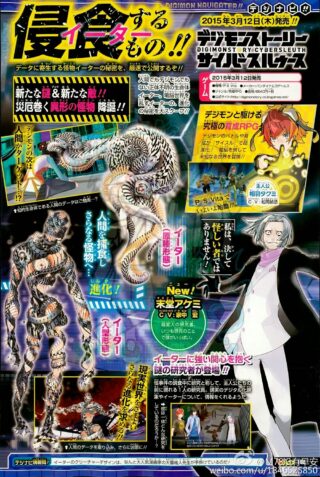 V Jump this month reveals new details on the previously revealed "Eater" enemy in Digimon Story: Cyber Sleuth.
Eater is an unidentified life form within cyberspace that appears without warning one day, consuming the data of humans and Digimon alike indiscriminately should they get too close. It will evolve through at least three additional forms, including "Eater (Humanoid)," "Eater Eve," and "Eater Adam." The life form has become a strong interest of researcher Akemi Suedo (voiced by Hiroshi Yanaka).
The magazine also details two new systems:
Keyword – Talking to specific people about certain keywords while out investigating can yield more information.
Digi-Line – A tool that's packaged as part of the Digivice. It lets users communicate with each other and share information, even when they're not close by.
Also in the magazine, V Jump Books confirms it will release a strategy guide for the game, which will come with download codes for a Taichi Kamiya costume for Agumon (which holds a rare skill), as well as a convenient item set. The strategy guide will launch day-and-date with the game for 1,500 yen.
Digimon Story: Cyber Sleuth is due out for PS Vita in Japan on March 12.