Death's Gambit reveal trailer
2D action RPG has players fighting climbing and fighting colossi.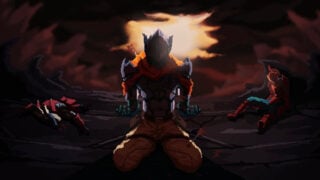 Los Angeles-based indie developer White Rabbit has released the reveal trailer for its first studio project Death's Gambit.
Described by many as a cross between Dark Souls and Shadow of the Colossus, Death's Gambit is an action RPG where you explore an alien medieval planet "filled with beasts, knights, and horrors." Players will climb and battle giant creatures, fight dangerous monsters "that will make you think outside the box," and "sacrifice everything for glory."
Platforms are still to be announced. Watch the trailer below. Visit the game's official website here.