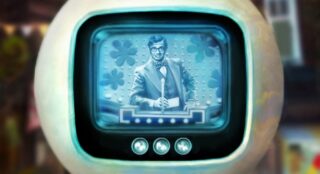 Following a tease earlier this month, Contrast developer Compulsion Games has announced its next project, We Happy Few, for PC and consoles.
Described as "the tale of a plucky bunch of moderately terrible people trying to escape from a lifetime of cheerful denial," the game is set in a "drug-fueled, retro-futuristic city in an alternative 1960s England." Players will have to blend in with the city's other inhabitants, who don't take kindly to those who don't abide by their "not-so-normal" rules.
If you're at PAX East in Boston next weekend, Compulsion Games will be showing off We Happy Few. Otherwise, the studio is planning more announcements in the coming weeks about how you can get involved.
Watch the debut trailer below. View the first images at the gallery.