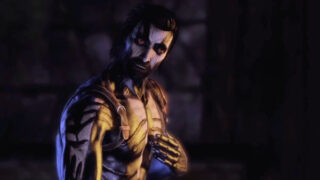 Square Enix London Studios and Climax Studios were previously at work on a successor to Legacy of Kain: Soul Reaver called Legacy of Kain: Dead Sun. But the project was cancelled in 2012.
According to NeoGAF user Mama Robotnik, citing unnamed sources, the game was in the pre-alpha stage before Square Enix decided it would not meet sales projections and scrapped the project. Development started off at a small scale, but grew to become a PlayStation 3 and Xbox 360 retail title. Before it was cancelled, it was strongly considered to be a current generation launch title.
Here's an outline of the story, via NeoGAF:
Kain and Raziel's time-travel throughout Legacy of Kain: Defiance appears to have stabilized Nosgoth's far future. Humans spread across the land once more, and plant life began to re-appear. The vampire monsters returned to more elegant vampiric forms, though some maintained their bestial ancestors' hunger for souls. The vampires continued to block out the sunlight using huge ever-burning smoke stacks. The conflict between predators and prey continued as it always had done. Humans were able to regain enough control of the wilderness to re-establish trading towns, and became enamoured with worship of the obscured Sun.

The respite faded, and mass sterility plagued the human race. Asher, a human, was able to achieve a miracle and father an unborn child. From unseen machinations, a Saradin Soul-Eater vampire is sent to kill Asher and his family (with orders form on high to make the assassination purposely look like a massacre) but something goes wrong: As the vampire attempts to consume the human's soul, a freak occurrence results in Asher taking complete control of Gein's body – leaving Gein's vampire spirit impotent as ghost that only Asher can see and hear.

Their journey together across Nosgoth's future would have initially explored who sent Gein to kill Asher, and why. It would later link to the wider Legacy of Kain mythos. There would be substantial connections to The Elder God, the Spectral Realm and a mysterious vampire child. The large theme running throughout the story would be the religious beliefs of Nosgoth. Climax were instructed by Square Enix to introduce a new protagonist to the series (as Crystal Dynamics had done thirteen years ago with Raziel in Soul Reaver), but the events were to be a continuation of the established Legacy of Kain storyline.
A 32-minute video of the cancelled project was also posted to YouTube, which shows the Wetlands area, a "gigantic hub" connecting the different areas in this region of Nosgoth together. These areas would have included dungeons, giant bosses, shifting between the Spectral and Material realms, and more.
Watch the video below. Read up more on the project at NeoGAF.