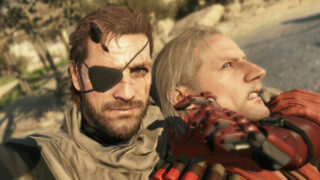 On the latest episode of weekly webcast Kojima Station, Kojima Productions teased the release date for Metal Gear Solid V: The Phantom Pain is nearing its announcement.
"I know you've all been eagerly await for word on releasing timing," a Kojima Productions spokesperson said during the broadcast. "I think we should be able to announce that soon, so look forward to that. It's only a little longer."
As far as upcoming events go, The Phantom Pain will be at the Taipei Game Show on January 31 with "new information."
In terms of development, The Phantom Pain is currently just before the bug check phase, as the team is currently adjusting some of the game's newly introduced elements.
Additionally, if you watch the video below from 27:50, you'll see a bit of new footage showing added hiding spots (like a simple porta potty) and voice adjustments.
Metal Gear Solid V: The Phantom Pain is in development for PlayStation 4, Xbox One, PlayStation 3, Xbox 360, and PC.
Thanks, Game Spark.