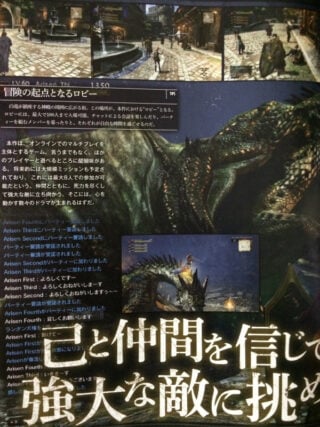 First details on Dragon's Dogma Online have come out of this week's Famitsu.
The 2015-due game will be a free-to-play action title with item micro-transactions for PlayStation 4, PlayStation 3, and PC. It's produced by Minae Matsukawa, directed by Kent Kinoshita, and executive produced by Hiroyuki Kobayashi.
Players take on the role of an Awakened in the new land of Lestaria. You'll be able to adventure with four-player parties (if you prefer to play solo, you can take three AI pawns with you), as well as chat, form parties, and spend free time in town lobbies with up to 100 people. There will also be a "Quick Matching" feature.
Dragon's Dogma Online is similar to previous entries terms of combat. Clinging attacks remain present. Players will battle against big enemies in dramatic battles, and monsters can become enraged, leading to fiercer attacks.
As for jobs, those currently confirmed in the game include the Fighter, Hunter, Priest, and Shield Sage. Players will be able to change their jobs whenever they like, as well as the jobs of their pawns.
Character creation has seen an upgrade. The number of sections and parts you can edit has been considerably increased. Crafting mechanics are also present. Pawns can make things like consumables, weapons, armor. Pawns can also work together to shorten crafting time and increase overall build quality.
The game is open-world, and that open-world will be expanded little-by-little via large-scale updates launched seasonally. Bigger missions where up to eight players can participate are implied to be coming in one of these updates. Time-exclusive quests are also planned.
Famitsu also introduces a group of four NPC characters part of the "White Winged Buddha Corps." They are: Fighters Vanessa (voiced by Atsuko Tanaka) and Leo (Koichi Yamadera), Hunter Iris (Marina Inoue), and Fabio (Yoshimasa Hosoya).
In an interview with Famitsu, producer Matsukawa and director Kinoshita share the following comments:
Development started with the basic desire of taking Dragon's Dogma and making it playable in an online environment.
The game couldn't be made in tandem with Dragon's Dogma: Dark Arisen and was therefore pushed back.
Capcom contemplated a monthly fee, but chose freeo-to-play in the end in an attempt to get more players to try it out.
Though paid items are present, the game will still feel like a proper Dragon's Dogma game.
The story is completely new and there are no character connections. (Editor's note: We take it this means no character connections to the previous game.)
The game world will initially be the size of what players have come to expect from previous games, but will expand over time to be three times larger in scope.
Parties are formed in the lobby, after which players depart for the field.
An effort has been made to emphasize the strengths and traits of individual classes, but it's not balanced so strictly that players need to be super meticulous about party makeup.
Capcom producer Yoshinori Ono also adds that the game's development is benefiting from the cooperation of Sony Computer Entertainment.
Thanks, Otakomu, Hachima Kikou, and [email protected].