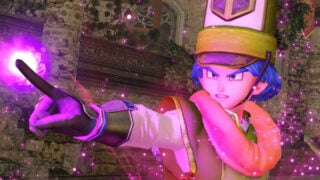 The latest set of Dragon Quest Heroes screenshots showcase playable characters Alena and Kiryl's special abilities.
Here's a quick overview:
Alena

Equipment: Gloves
Special Ability: Flash Fire Fist

While she doesn't have a weapon like a sword or axe, Alena uses martial arts to attack. With her fast movement, she can protect herself from enemies and quickly attack.

Abilities:

Exploding Fist – Alena fires her fists at a blistering pace.
Both at Once – Alena unleashes the power stockpiling in both fists both at once.
Flash Fire Fist – Alena lunges back and a launches a huge fireball from her fists.

Kiryl

Equipment: Spear
Special Ability: Kathwack

Kiryl is a priest equipped with a spear. He can also use "that" familiar spell as his special ability.

Abilities:

Kabuff – Raises the entire party's defense power for a fixed period of time.
Thunder Lunge – Fires the lightning stockpiling in his spear. Its power can break the ground and push away surrounding enemies.
Kathwack – A high damage attack that channels all of Kiryl's anger.
Additionally, you'll see images of the Slime, Dracky, and Killer Machine monsters.
Dragon Quest Heroes is due out for PlayStation 4 and PlayStation 3 in Japan on February 26. View the screenshots at the gallery.