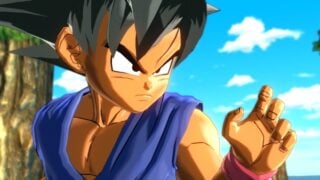 Bandai Namco has announced a Season Pass for Dragon Ball Xenoverse, as well as detailed new characters set to appear in the upcoming game.
The $24.99 Season Pass will include access to three different add-on packs:
DLC Pack 1 (Available in March 2015)

3 playable characters: GT Goku, Pan & GT Trunks
4 Time Patrol quests
12 Quests
15 Special Moves for the players' avatars
5 costumes

DLC Pack 2

Exclusive Playable Characters
Quests
Special moves
Costumes

DLC Pack 3

Turtle Hermit set (sunglasses, Turtle Hermit's Shell, Turtle Hermit's Beard, Turtle Hermit's Aloha Shirt)
Jaco the Space Patroller playable character
More highly exclusive content
Each pack can also be purchased separately for $9.99.
As for the new characters, Mira and Towa, the game's antagonists, managed to get their hands on a number of Dragon Ball Z characters and turn them into "Villainous" foes. These include: Gotenks, Vegeta, Gohan, Piccolo, Androids, and even the Great Apes. They also made Vegeta join the Ginyu Army, and granted Nappa the ability to transform into a Great Ape.
Also new in today's update are Omega Shenron and Super Saiyan 4 Gogeta.
Dragon Ball Xenoverse will launch for PlayStation 4, Xbox One, PlayStation 3, Xbox 360, and PC on February 24 in North America and February 27 in Europe. View a new set of screenshots at the gallery.