Rose confirmed as Tales of Zestiria party member
Like Sorey, she can also fuse with other Seraphs.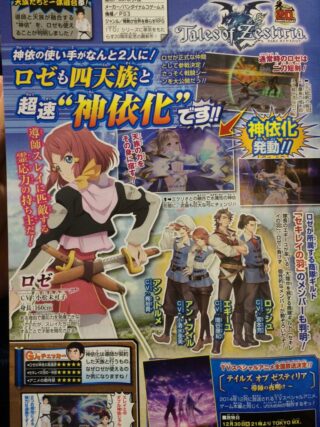 Jump this week officially confirms Rose as a party member character in Tales of Zestiria.
Like Sorey, Rose will also be able to Kamui fuse with the party's four Seraphs. Rose normally fights with two sword-like daggers, but when fused, her weapons will change. It's also possible for Rose and Sorey to be in Kamui fusions at the same time.
The magazine also reveals four new characters as part of a "Feather of Sekirei" guild that Rose belongs to. They are:
Aiguille (voiced by Yasunori Masutani) – The leader
Roche (voiced by Mitsuru Miyamoto)
Anne Phil (voiced by Ami Koshimizu)
Anne Torume (voiced by Yuki Kaji)
Tales of Zestiria will launch for PlayStation 3 in Japan on January 22.
Thanks, @kazu4281.