Drakengard 3 director teases new project
Plus, a non-update from Fumito Ueda on The Last Guardian.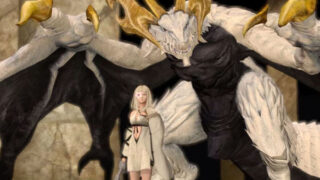 More quotes have come in from Dengeki PlayStation's 107 developer creator interview this week (previous reports here and here). This time, we get comments from The Last Guardian director Fumito Ueda (don't get excited, it's a non-update), Drakengard 3 director Taro Yoko, and more.
Get the quotes below.
The Last Guardian director Fumito Ueda – "As SCE's upper management has stated before, the development environment has been renovated and we continue to be in full production on The Last Guardian. We'll have more to announce when the time is right, but for now, we're still working on getting it polished, so we have no word on a specific time frame for now."
Falcom president Toshihiro Kondo – "The Kiseki series will continue unabated, as will the new Ys we've already announced, but beyond we've got more up our sleeves that we're working on behind the scenes."
Level-5 president Akihiro Hino – "We don't intend to rest on the success of Youkai Watch and will keep putting out more new works as time goes on."
Level-5's Jiro Ishii (Time Travelers) – "We're working hard to bring our audience lot of new games for 2015."
Taro Yoko (Nier, Drakengard) – "I'll be killed by various people if I talk about our newest project, so I'm just going to stay quiet."
Thanks, Hachima Kikou.