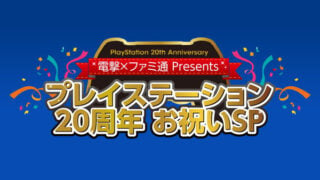 Dengeki and Famitsu's collaborative PlayStation 20th anniversary live stream special will begin at 1:30 a.m. PST / 4:30 a.m. EST / 6:30 p.m. Japan time.
The live stream will be hosted by Dengeki PlayStation and Weekly Famitsu editors-in-chief Yoshimichi Nishioka and Katsuhiko Hayashi, as well as popular Japanese Let's Player Dogma Kazami. It will feature "top tier guests," including Hideo Kojima and Yoji Shinkawa (Metal Gear Solid), Hiroyuki Kobayashi (Resident Evil), Hideo Baba (Tales of), Yuji Horii (Dragon Quest), and Sony Computer Entertainment Japan Asia president Atushi Morita himself. The steam will focus on PlayStation's 20th anniversary, as well as the future of PlayStation and games as a whole.
Watch the live stream below.
Alternate Streams: Niconico