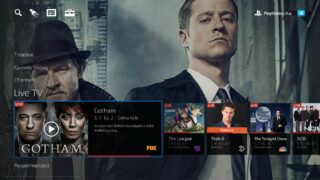 Sony Computer Entertainment has announced PlayStation Vue, a new cloud-based TV service that aims to "reinvent the television experience."
The service blends local broadcasts and cable network programming with on-demand content and programs that viewers have saved in a cloud-based DVR.
CBS, Discovery, Fox, NBC, Scripps Networks, and Viacom are all on board, adding up to about 75 channels available through the service's invite-only beta phase. When it launches, PlayStation Vue will be priced at a "competitive" subscription fee. You won't need to agree to a certain length of contract.
The beta preview will begin for select PlayStation 4 and PlayStation 3 owners this month, with a phased rollout starting in New York, followed later by Chicago, Philadelphia, and Los Angeles. The service will come to iPad shortly thereafter, and later on on more Sony and non-Sony devices.
"PlayStation Vue reinvents the traditional viewing experience so your programming effortlessly finds you, enabling you to watch much more of what you want and search a lot less," said Andrew House, President and Group CEO of Sony Computer Entertainment Inc. and Group Executive in charge of the Network Entertainment Business. "PlayStation Vue brings the best of live TV and a robust catalog of the latest content, always keeping you connected to what's popular, new and trending."
Find full details on the service below.
Removes Barriers between Viewers and Content

PlayStation Vue leverages the power of the cloud to combine the live, on-demand, and catch-up TV content viewers love with a powerful user interface, that delivers unprecedented personalization and simplicity.

PlayStation Vue immediately connects viewers to the content they want to watch, helps them easily access their favorite shows and channels, and recommends movies and shows based on their viewing habits and what's trending.
Discovering content is both simple and powerful with PlayStation Vue. The smart "Search" feature narrows down results quickly and intuitively, and the powerful "Explore" function allows viewers to filter the entire catalog of live and on-demand content by type of program, genre, ratings, popularity, length and more.
PlayStation Vue delivers catch-up TV and on-demand TV, freeing viewers to watch TV on their own schedules. The service makes the past three days of popular programming available without the need to schedule recordings.
Viewers can save their favorite shows to the cloud without storage restrictions or scheduling conflicts. Once viewers tag a favorite show, they will automatically have access to episodes of that show for 28 days so that they can watch on their own time.
PlayStation Vue is simple to navigate and intuitive to use. By leveraging the power of the PlayStation platform and controller, viewers are always one click away from quick access to watching, finding, and discovering content.

The Best Content on TV

During the invite-only beta, PlayStation Vue will initially offer around 75 channels per market from the following major programmers including local broadcast stations, so that viewers can enjoy their favorite movies, TV shows, and sports programs.

The following is a list of our current network partners, with additional partners to be announced in the future:

CBS – At launch, PlayStation Vue will offer the live linear signal from CBS Television Network's owned-and-operated TV stations in select leading markets in addition to on-demand prime-time programming.
Discovery Communications – Discovery Channel, TLC, Animal Planet, Investigation Discovery, Science, OWN: Oprah Winfrey Network, Discovery Family Channel and 11 more brands
Fox – Fox Networks Group's portfolio of national entertainment programming services, including – FX, FXX, FXM, National Geographic Channel and Nat Geo WILD. Additionally FOX Sports' national and regional programming services – FOX Sports 1, FOX Sports 2, BTN, Fox's regional sports networks, including YES Network and Prime Ticket. The agreement also covers Fox's owned and operated television stations.
NBCUniversal – All local offerings from NBC, Telemundo and regional sports networks as well as Bravo, CNBC, E!, NBCSN, Oxygen, Sprout, Syfy, USA Network and more.
Scripps Networks Interactive – HGTV, Food Network, Travel Channel, DIY Network and Cooking Channel
Viacom – BET, CMT, Comedy Central, MTV, Nickelodeon, PALLADIA, Spike, VH1 and more.

Transparent Pricing with No Commitments

Pricing and packaging details will be revealed at commercial launch but PlayStation Vue is changing the rules for how people pay for subscription TV.
What you see is what you pay – fair and competitive price that is transparent with no hidden fees or charges.
No contracts – maximum flexibility as PlayStation Vue will be offered on a month-to-month basis without any penalty or customer service hassles for cancellation.
No equipment or installation charges – with broadband internet service and a PlayStation 4 or PlayStation 3 system, there's no need to install or rent any additional equipment.
Thanks, USA Today.