Tales of Zestiria's Mystic Artes detailed
The 20th anniversary Tales game's most powerful techniques.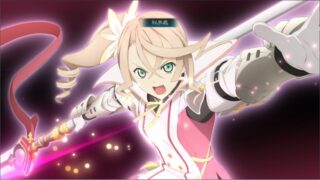 Bandai Namco updated the official Tales of Zestiria website today with details on each character's Mystic Artes.
Mystic Artes are the most powerful techniques each character can perform.
Find each character's Mystic Arte detailed below.
Sorey: Raijin Souhyouga

A technique in which Sorey continuously feints the enemy by swinging his sword from his right hand, only to quickly come in from the left slashing with a lightning attack.

Alisha: Shouha Rekkousen

A technique where Alisha raises the enemy into the air with her lance, only to continue piercing it with myriad other lances the moment her concentration is at its peak.

Mikleo: Clearlast Rod

A rod technique that strikes the enemy with three water bullets, with increased power for every hit.

Edna: Venerate Mine

A technique in which Edna sends a wall of rock at the enemy with a powerful kick.

Lailah: Enbu Rengekiha

A technique in which Lailah scatters a countless number of fiery paper leaves, which flutter about and change into a powerful hell-fire to strike the enemy.

Dezel: Brutality Whip

A technique in which Dezel strikes the enemy with a countless number of wind-based whip lashes.
View screenshots of each Mystic Arte at the gallery.