Super Smash Bros. for Wii U unveils 54 new features, including 8-Player Smash and Mewtwo
Board game mode, stage builder, and more confirmed.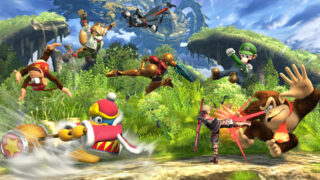 Nintendo detailed 54 features of its November 21-due Super Smash Bros. for Wii U during a Nintendo Direct broadcast this evening.
Catch a replay of the Direct and the list of features below.
1) Default Fighter Line-Up

More than 40 fighters to choose from right from the beginning. Additional characters are, of course, unlockable.

The move set of each fighter is the same across Wii U and 3DS.

2) Resolution

Compared to 3DS, which runs at 400×240 resolution, the Wii U version runs at 1920×1080 resolution.

3) 8-Player Smash

Wii U allows for battles between up to eight players simultaneously.

Available only on certain stages.

4) Bigger Stages

The Wii U version will have much bigger stages. The expanded "Big Battlefield" makes its debut in addition to the traditional "Battlefield" Stage.

5) Danger Zones

The "Great Cave Offensive," based on the underground labyrinth found in Kirby games, challenges players to avoid potentially lethal danger zones—or throw their opponents into them. If a player with over 100% damage touches them, they'll be instantly KO'd.

6) Dual-Plane Battling

Some stages includes dual-plane battling/ The "Jungle Hijinxs" stage, based on Donkey Kong Country Returns, lets players fight in the foreground and background. Blast barrels shoot players from front to back and vice-versa. Fighters will launch easier on the rear plane.

7) Number of Stages

The Wii U game offers more stages than any game in the series. The structures will be very different, as well.

8) Miiverse Stage

A Miiverse stage will post specific messages about each fighter in the background of the stage. It won't be ready at the game's launch.

9) Palutena's Guidance

In "Palutena's Temple," Pit's downward taunt invokes messages from Palutena.

10) Metal Face

"Gaur Plain" for the 3DS version is included. "Metal Face" will make a special appearance. You can also KO him.

11) Ridley

Samus Aran's arch-nemesis, Ridley will appear. If a fighter attacks Ridley enough, he will join that player's side and assist him in battle. If he consumes a certain amount of energy, he will become Mega Ridley. You can even earn a point for KOing Ridley when he's fighting on your side.

12) Coin Battles

Coin Battles return in the Wii U version, and see players compete for coins that fall when they're attacked.

13) Stamina Matches

This type of match is similar to a normal fighting game where you lose when your hit points are reduced to zero.

14) Special Smash

In Special Smash, you can change around the rules and create your own match just the way you like it.

15) Item Frequency

Adjust the frequency that items will appear, whether its often, rarely, or never. You can also toggle certain items on or off.

16) My Music

This function allows you to take all the songs from various stages and series and set how frequently they play during battles.

17) Menu Music

You can also use and change the basic menu music.

18) Tons of Music

There will be even more songs available in the Wii U version compared to the 3DS version. Almost all the music from the 3DS version will be included. The game includes hundreds of music tracks, songs and jingles that players can listen to and settings to customize what music plays during game play.

19) Composers

With the increase in songs comes an increase in composers.

20) CDs

One way to collect music is by finding in-game CDs. Players add songs to their library by collecting CDs that appear while smashing or after completing challenges.

21) Challenges

Complete various tasks to fill out all of the spaces. For the Wii U version, the Challenges section is all on one screen. Complete challenges to reveal additional spaces.

22) Classic

Classic mode has you fighting a series of battles until you release the final showdown. In the 3DS version, you choose your own path, but in the Wii U version, you'll advance based on how well you survive. You'll also have a rival and challenges to deal with. You can change the difficulty by adjusting the intensity. The more difficult, the greater the reward. Up to two players can play Classic Mode.

23) Clear Movies

When players clear Classic or All-Star modes, they'll be treated to a brief movie featuring whichever fighter they used. Every fighter has a movie.

24) All-Star Mode

In this mode, you must take on all the fighters in the game with a limited number of healing items. In the 3DS version, you fought against each fighter in chronological order. In the Wii U version, you fight the newer fighters first. It will also support two players.

25) Event Mode

In this mode, you'll take on set, themed battles by clearing stages and seeing the path forward. There are plenty of fun and unique themes to choose from, as well as two-player event battles with specific challenges.

26) Smash Tour

A board game-like mode exclusive to Wii U for up to four people where players use items, spin a wheel, and advance around the map. Instead of moving around pieces, you move Miis. As you advance, you'll collect more fighters to use in battle. If your Miis arrive at the same space, you'll be forced to face off. Defeat someone, an you can steal a fighter from their lineup. As you move, you'll also collect power-ups like those found in the 3DS version's Smash Run mode, which can be used in the final battle. The final battle is a stock battle made up of all the fighters you've collected up until that point.

27) Target Blast

This mode gives you a time bomb to launch at targets, blow them up, and earn points. In the Wii U version, the second bomb is bigger and has a more destructive explosion. It's also heavier. The Wii U version will also have three types of stages. Your scores here will affect your Global Smash Power.

28) Multiplayer Stadium

Multiplayer is now available in the stadium. In Target Smash, up to four players can play together by taking turns. Multi-Man Smash can be played by up to four players simultaneously. And in Home Run Contest, players can play in two-player co-op or by taking turns with up to four players.

29) Special Orders

Master Hand and Crazy Hand have a set of challenges that make up the Special Orders mode. Battle by battle, you'll try to advance depending on the order ticket you get. In Master Orders, you'll receive rewards based on the difficulty of the order you undertake. Tickets are used separately and can only be tried once. In Crazy Orders, it costs gold or a pass just to enter. Then, within a set time limit, you'll choose and fight battles with each becoming harder the longer you survive. When you feel you've had enough, you'll face off against Crazy Hand. If you win, you keep all your rewards. In this most, higher risk equals higher profits.

30) Master Fortress

Master Core, the mysterious villain from the 3DS version, has a new form in the Wii U version known as Master Fortress. This form only appears on higher intensity levels and has players traversing a dungeon to defeat it.

31) Controllers

Players can use the following controllers to play: Wii Remote Plus, Nunchuck, GamePad, Classic Controller, Classic Controller Pro, Wii U Pro Controller, GameCube Controller, and 3DS.

32) GameCube Controller Adapter

A GameCube Controller Adapter is required to use a GameCube controller.

33) 3DS as a Controller

If you own the 3DS version, you can use your 3DS to control your fighter in the Wii U version of Super Smash Bros.

34) Connecting to 3DS

Bring your custom fighter from the 3DS version to the Wii U version by connecting them from the main menu.

35) Tons of Trophies

More trophies than ever before. In the 3DS version, there were many trophies from portable games. In the Wii U version, there are a lot of trophies from home console games.

36) Final Smash Trophies

New trophies that show the characters' Final Smash movie. Survive All-Star mode to get your fighter's Final Smash trophy.

37) Trophy Boxes

By collecting trophies, you'll be able to display them in trophy boxes according to their theme.

38) Photo Studio

Arrange trophies like a diorama. Set up scenes and take just the right photo to show them off.

39) Trophy Rush

The best way to get more trophies is to play Trophy Rush. In the Wii U version, you can play with two players, either cooperatively or competitively.

40) Masterpieces

Take a peak into each characters' previous lives by playing demos of their greatest hits, including The Legend of Zelda, EarthBound, Super Mario World, Pilot Wings, and more. If you find something you want to play fully, you can buy it in the Nintendo eShop.

41) Amiibo

Scan an Amiibo and it will join the fight as a Figure Player. Your Amiibo figures will level up and grow stronger as they fight. You can also help them grow by giving them extra equipment. You can fight against them, team up with them, or have them fight each other. Amiibo will also bring you presents from the battles they fight.

42) Internet Connection

When playing online, your connection environment is very important. The Wii LAN Adapter is recommended if you don't have a stable Wi-Fi connection.

43) Notifications

You'l see notifications and recent topics of discussion in the main menu. You can also see a list of past notifications.

44) Friends & Tags

When battling online in "With Anyone" mode, you can team up with someone using the same Wii U. To play an online match together, select Team Smash and choose the two-player option.

45) Tourney

A post-launch mode will let you host your own Tourneys and join others'. You can set the conditions for each Tourney yourself, such as rules, items, stages, duration, and battles.

46) Tournaments

Up to 64 players can fight in a battle for survival. Replays will also be available.

47) GamePad

The GamePad screen can be used to display information, such as the amount of damage you're taking.

48) Paint

You can use the GamePad to take in-game screenshots and then paint/draw on them. Following a future update, you'll be able to send photos online.

49) Voice Chat

On the GamePad, there's a microphone. Using it, you can talk with friends before an online match, but not during a match.

50) Stage Builder

The GamePad will allow you to easily design your own stages. You'll be able to build platforms freehand, using the stylus as if you were drawing. There are five themes for custom stages and you can choose any music you like.

51) Sharing

Players will be able to share their photos, replays, Mii Fighters, and custom stages with friends online with the world.

Others

Features shared by both include Glory Battles, For Fun Battles, Battling With Friends, Conquest, Spectate, World Stats, Replays and the Replay Channel, Buttons, Sounds, Internet Options, Rules, Smash Battles, Team Smash, Training, Trophy Shop, Albums, Sound Test, Fighter Records, Stats, Milestones, Tips, and more.

52) Movies

In the Wii U version, all the "Joins the Battle" movies for the new fighters are included.

53) Sound Test

Anyone who buys both the 3DS and Wii U versions and registers with Club Nintendo will get a special two-disc soundtrack CD. The Red CD includes music from the 3DS game, and the Blue CD includes music from the Wii U game.

54) Mewtwo is on the Way

This special bonus fighter will be available as a free download in spring 2015 to those who purchased both the 3DS and Wii U versions of the game.
View a new set of screenshots at the gallery.