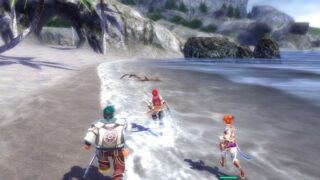 Falcom's new Ys game for PlayStation 4 and PS Vita is currently 30 percent complete, this week's Dengeki PlayStation reveals.
The game's story is expected to take place just before Ys Seven, at some point between Ys V: Lost Kefin, Kingdom of Sand and Ys VI: The Ark of Napishtim.
The setting is the "Goethe Sea," an archipelago of South Gria. As such, there is a strong sense of the sea in the game's overall image.
New elements and systems will also be added. And characters from previous Ys games will appear, as well.
Falcom president Toshihiro Kondo describes PlayStation 4 development as trial-and-error, but adds that the staff is very highly motivated. The team hopes to implement PlayStation 4 Share functions and such.
The next Ys is due out in Japan next year.
Thanks, [email protected].