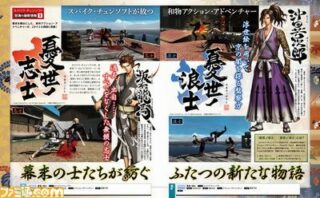 First details on Spike Chunsoft's newly announced Ukiyo no Shishi for PlayStation 3 and Ukiyo no Roushi for PS Vita have come out of this week's Famitsu.
Both games tell a 'what if' story of the end of the edo era. Both share the same fields and systems, but offer wholly different stories.
The PlayStation 3 version tells the story of the Ishin side (i.e. pro-emperor or anti-shogunate)—of the patriot Ryoma Sakamoto. It tells a new interpretation while still dealing with actual historical events.
The PS Vita version tells the story of Shinsengumi soldier Yoshijirou Okita. As an inspector, players will solve the mysteries of incidents using elements of reasoning to progress.
The games only have one ending, but there will be small branches within the story.
The game includes a rendering engine known as the "Ukiyo Engine," which allows the scenery in the game to be visually transformed to resemble that of an ukiyo-e painting at will.
Here's the game's staff:
Director: Kazunori Hanashima
Main Planner: Takayuki Sugawara (Danganronpa Director)
Character Designer: Hidetoshi Fujii (Danganronpa)
Music: Kemmei Adachi (Patapon, LocoRoco)
Release dates for Ukiyo no Shishi and Ukiyo no Roushi are not announced.
Thanks, Hachima Kikou and [email protected].