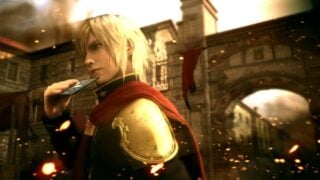 Sony Computer Entertainment Japan's Tokyo Game Show website has accidently leaked a number of unannounced exhibiting titles for this week's Tokyo Game Show.
Logos for Final Fantasy Type-0 HD, Resident Evil: Revelations 2 for PS Vita, and a number of mystery titles can be found in the folders for Sony's exhibiting lineup. For example, the URL for the Bloodborne logo on the exhibiting titles page links to a 01.png file in the "PS4" folder. If we change the number, we'll get a look at some of the exhibiting titles Sony has yet to put on its page, including:
Things worth noting:
The file number for Final Fantasy Type-0 H is 55. The file number for Dragon Quest: Heroes, which is already confirmed to appear at the show (thus its absence from the list above) is 56. The file number for one of the "Coming Soon" titles is 54. Given that this group of titles seems to be lined up in number by publisher, it's possible this is a Square Enix game.
This is the first time we're seeing Uncharted 4 and Until Dawn in Japan. Its showcase will likely be the same trailers we've already seen, but for the Japanese audience.
Additionally, in the PS Vita folder, we have:
The Tokyo Game Show runs from September 18 to 21.
Thanks, NeoGAF.