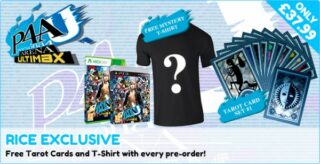 Sega will distribute a Persona 4 Arena Ultimax "Fan Edition" exclusively via Rice Digital in Europe.
For £37.99, the Fan Edition includes a copy of the game, a T-shirt, and "Tarot Card Set #1."
The design of the T-shirt is still to be decided. It will be voted by the community "in a few weeks' time." Find more details here.