Onechanbara Z2: Chaos Japanese pre-order bonuses announced
Pale Wing costumes, Cat hands, and a smartphone wallpaper.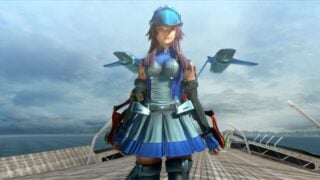 D3 Publisher has announced retailer-specific pre-order bonuses for Onechanbara Z2: Chaos in Japan.
Consumers who pre-order from Amazon Japan will receive the "Earth Defense Force 2017 Portable Pale Wing Pink Set" costume download code. In addition to the costume, it also includes the "Pale Visor" hat.
Joshin pre-orders include an exclusive smartphone wallpaper.
GEO pre-orders include a "Moffumoffu Accessory Set: Hands of Cat and Leg Fur" download code. As you could imagine, this costume dresses the game's heroines in fur, including leg fur, and cat hands and feet.
And finally, pre-orders from the D3 Publisher Web Shop include the "Earth Defense Force 2017 Portable Pale Wing Blue Set" product code. This is the same costume set as Amazon's pre-order, except in blue.
Onechanbara Z2: Chaos is due out for PlayStation 4 in Japan on October 30. View screenshots of the pre-order bonuses at the gallery.