Killer Instinct Maya trailer, screenshots
Season 2 of Xbox One fighter due out next month.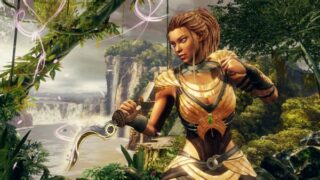 Microsoft debuted a new trailer and screenshots for Killer Instinct: Season 2 fighter Maya at this week's Tokyo Game Show.
Expo attendees can go hands on with the new character, who wields the ancient daggers "Temperance" and "Vengeance." She uses a "blade juggling" combat style that lets her power up her daggers the more they're blocked. But if she loses a blade, her powers are diminshed until she can recover it.
Killer Instinct: Season 2 is due out for Xbox One on October 15.
Watch the trailer below. View the screenshots at the gallery.