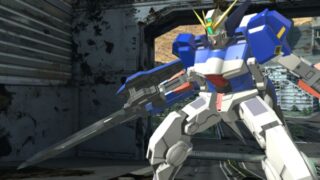 Famitsu this week confirms new playable Gunpla, characters, and stage gimmicks for Gundam Breaker 2.
First, the new characters, designed by Tsukasa Kotobuki:
Shoma (voiced by Atsushi Abe)
Reia Heisenberg (voiced by Yoko Hikasa)
Carvy Yuha Kiulu (voiced by Katsuyuki Konishi)
The new playable Gunpla include:
Acguy
Hygogg
Age-2 Dark Hound
Other Gunpla that appear on the package art include:
RX-78NT-1
Gundam Dynames
Gundam Age-2 Normal
Gundam Kyrios
V Dash Gundam
V2 Gundam
Gundam Virtue
Justice Gundam
Beargguy
Perfect Strike Gundam
Stages will feature various gimmicks, including the Mega Rider, Base Jabber, and fortresses.
There are also Versus Battleship and Battleship Escort missions.
Finally, if you have save data from the original Gundam Breaker, this applies to you:
One part per type can be imported (Tiers have switched from a star level in the first game to a level system in the sequel)
Upgrading said parts will make them just as viable and strong as what can be normally gotten through playing Gundam Breaker 2
The G Gundam God Slash and the Wing/Banshee/Build Strike Gundam's Beam Sabers can't be imported
Gundam Breaker 2 is due out for PlayStation 3 and PS Vita on December 18.
Thanks, [email protected].