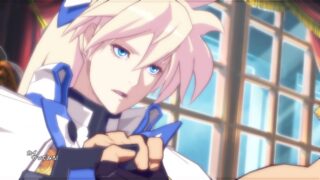 Guilty Gear Xrd: Sign will launch for PlayStation 4 and PlayStation 3 in standard and limited editions in North America this holiday season, Aksys Games announced. 
The limited edition costs $79.99 on PlayStation 4 and $69.99 on PlayStation 3. It includes:
"The Backyard" – The outer box for the Limited Edition features a replica of "The Backyard" complete with gears and high-quality binding. Dare to open the book to uncover all the goodies!
Guilty Gear Xrd: Sign Soundtrack – The Guilty Gear Xrd: Sign soundtrack is filled with the hard rocking tunes that the series is known for, arranged by Guilty Gear series creator, Daisuke Ishiwatari, himself!
Guilty Gear Xrd: Sign Character Book – What limited edition is without its art book? The Character Book features a profile for each character from Guilty Gear Xrd: Sign, as well as those from Guilty Gear: XX Accent Core Plus and Guilty Gear 2: Overture, and a glossary of terms; a complete character history for those who have some catching up to do!
Sol Badguy "Free" Keychain – Inscribed with the word "FREE," this metal key chain is a scaled replica of the original belt buckle worn by Sol! Add it to your keys to show off something truly unique!
A set release date is still to be announced. Though if Japan's December 4 release is any indication, we'll probably get it sometime around then.