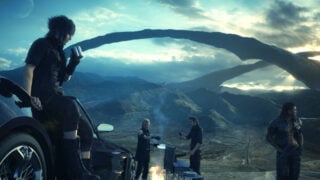 Square Enix debuted a new trailer for Final Fantasy XV at the Tokyo Game Show.
Additionally, the publisher announced that Hajime Tabata, director of Final Fantasy Type-0, will now serve as the director of Final Fantasy XV, allowing previous director Tetsuya Nomura to focus his full attention on Kingdom Hearts III.
"In reviewing our development structure, we have decided to assign Hajime Tabata as the new director for Final Fantasy XV. Currently, Tabata and the entire development team are working, whole-heartedly, towards completing the production of Final Fantasy XV and ensuring the delivery of the highest quality Final Fantasy title to date," said Square Enix CEO Yosuke Matsuda regarding the staff changes. "We invite every one of our fans to view the fruits of our labor through Final Fantasy XV's demo, and promise to present a game that further surpasses expectations when the finished product is released.
"As the director of Final Fantasy XV, Tetsuya Nomura has mainly worked on the original concept for the story and universe in addition to creating the characters. Hereafter, he will be focusing his efforts on the production of titles that can only be made possible by Nomura, himself, and delivering products that exceed the quality of past titles, starting with another one of his representative projects, Kingdom Hearts III. Square Enix will continue to work on these titles with the best staff formation in an effort to deliver them to everyone as soon as possible and appreciates your continued support."
A demo for Final Fantasy XV will be included with Final Fantasy Type-0 HD when it launches for PlayStation 4 and Xbox One in March.
Watch the trailer below. View a new set of images at the gallery.