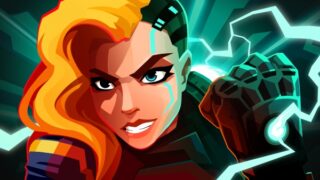 Velocity 2X will launch for PlayStation 4 and PS Vita on September 2 in North America and September 3 in Europe, Futurlab announced.
The game will support both Cross-Buy and Cross-Save, meaning one purchase nets you both versions, and the same save data is compatible with each.
Over at the PlayStation Blog, Futurlab managing director James Marsden details why he thinks Velocity 2X is a "game of the year" winner.
"How can I be so sure?" Marsden asked. "Think about what game-of-the-year means: best-in-class for audio, graphics, gameplay quality & production value.
"When you get your hands on Velocity 2X, I know you'll agree: with layers of depth and complexity of the gameplay features, the ambition is vast even compared to AAA titles. We have great teleporting, tele-dashing, scroll boost and telepods that all mesh together seamlessly. Also puzzles, platforming, gorgeous shmup-action, amazing boss fights and kick-ass gunplay!"
Watch a new trailer below. View some new screenshots at the gallery.