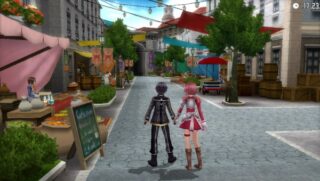 Bandai Namco has not one, but two big RPG game releases in North America today.
Tales of Xillia 2 is the sequel to last year's Tales of Xillia. The PlayStation 3 release takes place a year after the events of the first game, and put players in the role of Ludger Kresnik, a young man who enjoys cooking and lives with his older brother Julius and cat Rollo. On his way to his first day of work at the local cafeteria, he runs into a young girl named Elle Marta and the two become involved in an accident that "changes their lives forever." The game is built around the concept of "choice," with players being able to decide how to react to various characters and situations, which can cause the story to branch out into different paths and affect character relationships.
Sword Art Online: Hollow Fragment is based on the novel, manga, and anime series Sword Art Online. The digital-only PS Vita game takes players to a simulated massively multiplayer online role playing game setting to find they are captured within the game and must explore and defeat enemies to reach the highest floors of Aincrad and free themselves from the fantasy game world. It includes a high-def version of Sword Art Online: Infinity Moment, allowing fans to play through the updated PSP game, or jump straight into Hollow Fragment. In Hollow Fragment, Kirito is teleported to the new Hollow Area on the 76th floor and encounters a mysterious player named Philia, who has a dark past and the orange marking of a player killer. Together, the two must set aside their differences and join forces to defeat a greater enemy, as well as the infamous player killing guild "Laughing Coffin."
Watch launch trailers for both games below. View a new set of Sword Art Online: Hollow Fragment screenshots at the gallery.
Sword Art Online: Hollow Fragment
Tales of Xillia 2