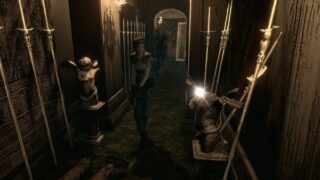 Capcom has announced Resident Evil for PlayStation 4, Xbox One, PlayStation 3, Xbox 360, and PC.
Due out digitally in North America and Europe in early 2015, the game is a remastered version of the 2002 GameCube version of Resident Evil, which featured new visuals, gameplay elements, environments, and story details from the 1996 PSone release.
The current-gen versions of the game will offer 1080p graphics, while previous gen offers 720p, and run at 30 frames per second across all consoles. The game will feature 5.1 surround sound support, both 4:3 and 16:9 play ratios, and different control schemes. The classic control scheme remains for fans who want to play in the original style, while the alternative control scheme, where the character moves directly in the direction of the analogue stick, is also available.
Here is the story outline:
Taking place in the now notorious Raccoon City, players will choose to take on the role of either S.T.A.R.S. (Special Tactics and Rescue Service) team member Chris Redfield or Jill Valentine, who have been sent into the city to find the missing Bravo team. When the team is suddenly attacked by a ferocious group of mutated dogs, desperate for an escape they take shelter in the Mansion, but will they ever get out alive again? Players will need to be brave as they adventure through the dark, enclosed spaces searching out the horrors that await them. With limited ammo and survival items available gamers will need to keep their wits about them to survive the various traps and puzzles that greet them at every stage.
In Japan, Resident Evil will launch as Biohazard HD Remaster on November 27 for PlayStation 3 and Xbox 360. It will have a few different purchase options:
PlayStation 3

Disc Version (3,990 yen)
Download Version (3,649 yen)
Collector's Package (4,990 yen) – Includes Art Guidebook (B5 size, 48 pages), "Mansion" Designer G Trevor Floor Map (B2 size)
Limited Edition (11,111 yen) – Includes S.T.A.R.S. special make notebook cover, LAMY-make ball-point pen, S.T.A.R.S. metal clip, and a Resident Evil notebook

Xbox 360

Download Version (3,649 yen)
The other versions will launch in Japan in early 2015 as download only releases.
View the first screenshots of the PlayStation 3 and Xbox 360 versions at the gallery. Visit the game's official website here.