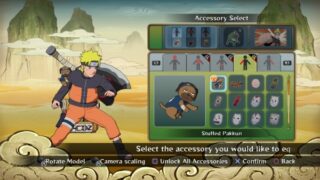 The latest set of Naruto Shippuden: Ultimate Ninja Storm Revolution screenshots show Gaara, the Fifth Kazekage of the Sand, and a new online feature that lets players train their characters to fight in their own online battles.
The online mode will enable players to accessorize their characters, and have them fight for them in Network Clone Teams to train and gather items while players are away from the game.
As for Gaara, here is Bandai Namco's description:
Gaara, the respected Fifth Kazekage of the Sand brings his unparalleled skills as a Shinobi to the battlefield. With his ability to manipulate and control sand summon the One Tailed Beast, Shukaku, Gaara is one of the Shinobi World's fiercest fighters. Allowing Gaara to harness his True Awakening power unleashes the mighty Shukaku, a gigantic beast with immense power and can quickly turn the tide in a battle.
View the screenshots at the gallery.