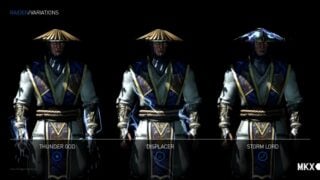 Warner Bros. has released a new gameplay trailer for Mortal Kombat X showing off series veteran Raiden's different character variations.
Narrated by series co-creator Ed Boon, the video shows Raiden's variations and play styles, which each have their own offensive and defensive advantages. His fighting styles are "Thunder God," "Displacer," and "Storm Lord."
Watch the video below. View a new set of images at the gallery.