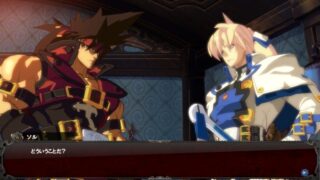 The latest set of Guilty Gear Xrd: Sign screenshots show off the Arc System Works fighter's new console modes.
The PlayStation 4 and PlayStation 3 versions will feature cross-platform network play across both "Ranked" and "Player" matches. Ranked matches are reflected in the rankings, while Player matches are not.
During Player matches, up to eight people can enter a room, and four matches are carried out simultaneously. You'l also be able to watch other players' matches, and text and AV chat with other users in the room.
Also shown are the game's Tutorial, Challenge, Mission, and Training modes, as well as a single shot of the new Story mode, which will be further detailed in a followup report.
View the screenshots at the gallery. Guilty Gear Xrd: Sign is due out for PlayStation 4 and PlayStation 3 on December 4 in Japan and this fall in North America.