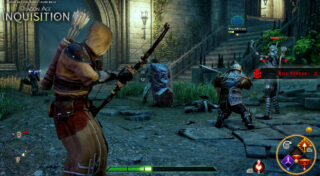 Dragon Age: Inquisition will have a four-player online mode, BioWare announced.
There will be three multiplayer campaigns available at launch, each randomly generating a large level made up of smaller sections. You'll fight through five of 10 pre-designed areas in one shot, each with their own distinct differences. Considering the game's single-player story can last up to 200 hours, BioWare wanted multiplayer to work in '20-30 minute bursts.'
To make multiplayer indefinitely replayable, the next time you play, you might see the same stage in a new spot, or an entirely different collection of arenas, each with different enemy encounters.
Read more at IGN. Watch their video preview below.