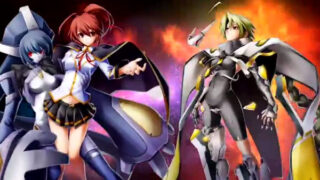 Arc System Works has published the gameplay introduction trailer for new BlazBlue: Chrono Phantasma playable characters Celica Ayatsuki Mercury and Lambda-11.
The pair were first announced last month. Celica, who fights alongside Ex Machina: Minerva, has a number of basic fighting skills, while Lambda-11 has the battle style of Nu-13 with "Luna Forma" as her base.
Celica and Lambda-11 will make their debut in "Version 2.0" of the arcade version of BlazBlue: Chrono Phantasma this fall. A console release for the characters has not been announced.
Thanks, Famitsu.