Tales of Zestiria introduces new character Maltran
Alicia's teacher and the Blue Valkyrie.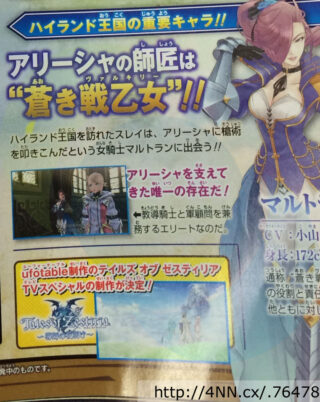 Jump this week reveals a new character set to appear in Tales of Zestiria.
Voiced by Mami Koyama and known as the "Blue Valkyrie", Maltran is a female knight and Alisha's teacher who taught her all of her fighting techniques. She is set to play a large role in the fate of the Hyland Kingdom.
Also in the magazine, the game's "real map battle" feature is detailed. Players will battle enemies immediately in their current setting. Various geographical features, such as ramps, might come into play during battles, and "map actions" will let the player affect the experience on the world map. One such action, "Cloak of Ghost Fog," makes players invisible as not to be noticed by enemies. Another, "Chief's Wrist," lets players break boulders blocking their way.
Tales of Zestiria is in development for PlayStation 3.
Thanks, Anime News Network and @kazu4281.