Phantom Breaker: Battle Grounds PS Vita western release date announced
Beat 'em up side-scroller lands later this month.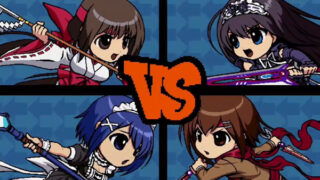 Phantom Breaker: Battle Grounds will launch for PS Vita in North America and Europe via PlayStation Network on July 29, 5pb. announced.
The beat 'em up side-scroller will also be available in South Korea on August 1.
Producer Masaki Sakari notes that this is the first time 5pb. has released a game worldwide for PS Vita and it hasn't been pleasant. Every branch of Sony Computer Entertainment has different pre-release certification standards and how their individual rules break down. Instances where there would be an OK in one branch would be a problem in another. Sakari says SCE was generally not receptive during negotiations to bending the rules to accommodate their needs, especially SCE Europe.
But alas, he says it was a big learning experience overall, which he expects will be useful going forward. The upcoming international release also means the Japanese version will soon be updated. And Sakari says he'll get on bugging SCE Japan about resolving the game's remaining trophy sync issues.
Phantom Breaker: Battle Grounds launched for PS Vita in Japan on March 13.