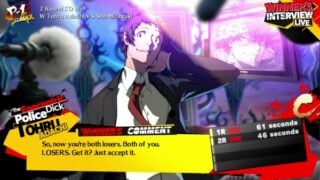 Atlus has confirmed that the Tohru Adachi character downloadable content for Persona 4 Arena Ultimax will be available free for the first week after launch in North and South America.
After the first week, Adachi and his Persona Magatsu-Izanagi will revert to paid downloadable content.
Persona 4 Arena Ultimax is due out for PlayStation 3 and Xbox 360 in North and South America this fall. View a new set of screenshots at the gallery.
Outside of Adachi, Atlus announced it will be at EVO 2014 in Las Vegas next week with Persona 4 Arena Ultimax for hands-on demos. If you're there, be sure to check it out.