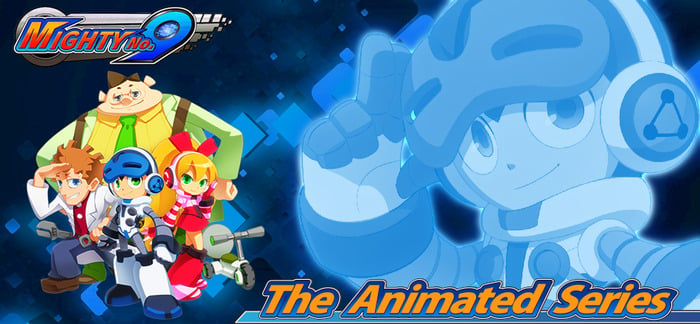 An animated series based on Mighty No. 9 is in production at Digital Frontier for release in Q2 2016, Comcept announced.
Digital Frontier's previous works include CG production and composite work on popular titles such as Wolf Children and Summer Wars. It also did the entire CG work for the Resident Evil: Damnation movie, as well as motion and facial capture for the Yakuza series of games, Binary Domain, Metal Gear Rising, and others.
Comcept made clear that none of the funding raised from the game's Kickstarter campaign is being used for the animated series. Digital Frontier is seeking investment separately "across a range of industries."
Here is an overview of the series from Digital Frontier, which says it's being targeted at viewers ages six to 11.
"Half human, half robot, all Mighty"

In the year 2099, humans have become dependent on robots not just for manual labor but also entertainment. The most powerful robots in the world fight in front of humans in a popular league called the Battle Colosseum.

Beck is a small combat robot made to fight in the Battle Coliseum as a part of the Mighty Numbers, the strongest robots in the world. But since Beck is the only robot in the world with a human heart, he's also the only robot that gets scared in combat. The good news is that he also possesses the ability to turn into any other robot. The bad news is that since his emotions are wired to his abilities, he often finds himself malfunctioning in battle.

One day a notorious engineer named Dr. Blackwell releases a virus that infects every robot in the world…everyone except Beck. Dr. Blackwell remotely controls the infected Mighty Numbers to lead a rebellion to destroy mankind. Beck suddenly becomes the only robot available to stop the Mighty Numbers.

As Beck tries to save the world, he will be joined by Call, his overly serious robotic sidekick; Dr. White, the young but socially inept creator of the Mighty Numbers; and Dr. Sanda, the lazy but wise team leader. With each of their help, Beck will learn how to deal with his emotions and become the hero they need him to be.
A two-minute CG teaser, as well as a pair of promotional artworks, were released alongside the announcement. See them below.
Outside of the animated series, Comcept also launched a new funding campaign for Mighty No. 9 focused on bonus content. The first stretch goal, at $100,000, is full English voice acting. You can fund the new campaign here.
Mighty No. 9 is planned for release across PlayStation 4, Xbox One, Wii U, PlayStation 3, Xbox 360, PC, 3DS, and PS Vita in April 2015.