Ar nosurge English trailer, screenshots
A look at the game's busy city streets and other areas.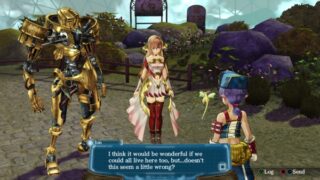 Koei Tecmo released a new English trailer and screenshots for Ar nosurge: Ode to an Unborn Star today.
Additionally, the company announced that GameStop pre-orders for the game will include two Misogi Expansion Packs (Nay and Kanon) and a dynamic custom theme based on the Felion Console.
The new screenshots introduce some of the game's stages, including busy city streets, cozy restaurants, underwater labs, and otherworldly rural locals, as well as the playable characters Delta, Ion, and Casty, which Koei Tecmo details below.
Delta – A man who came through the barrier of Felion to protect humans as part of the Special Forces team and Earthes, a strange combat robot who helps the mysterious Ion with her quest.

Ioonasal kkll Preciel – A heroine of Ar nosurge, she seems to be aware of details about the world that none of her contemporaries know and is adept in engineering, always tinkering with machines and creating strange devices.

Casty – Another heroine, she is a cheerful human girl from Felion whose ability to use Song Magic has earned her a spot in the Special Forces' 'Genomis task force'.
Watch the new trailer below. View the screenshots at the gallery. The game is due out for PlayStation 3 on September 23 in North America and September 26 in Europe.