Senran Kagura 2 'Inochigake' gameplay, screenshots
Strip down to power up in new footage.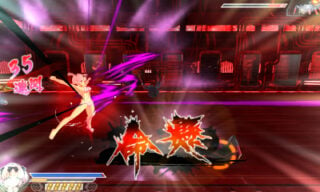 Marvelous AQL has gone up with a new gameplay video and screenshots highlighting Senran Kagura 2: Deep Crimson's "Inochigake" ability.
When Inochigake (Life and Death) is activated, the character's clothing disappears. In addition to strengthening your attack speed and offensive ability, you'll be able to attack as much as you like with Secret Ninja Arts. However, because this state puts your life at risk, you have to be constantly on your feet, as you'll lose health if you just stand around doing nothing, and Inochigake will wear off once it reaches a certain HP threshold. That said, your HP will heal as you land attacks on enemies, so it's best to take them out as quickly as possible.
Additionally, the game's official website has gone up with voice samples and messages from Yagyuu and Mirai, voiced by Kaori Mizuhashi and Saori Gotou, respectively.
Watch the new footage below. View the screenshots at the gallery.