Persona Q 'The Wild Cards' premium edition announced
3DS dungeon RPG due out this fall.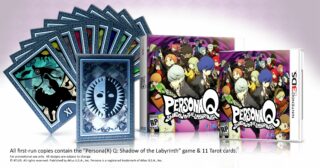 Atlus has announced first-print / pre-order bonuses and a 'Wild Cards' premium edition for Persona Q: Shadow of the Labyrinth in North America.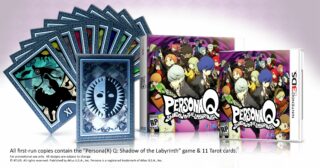 First-print / pre-ordered copies of the 3DS dungeon RPG will include:
Tarot Card Set #2 – The collection of the iconic Tarot Cards used as evokers in Persona 4 are being released as a collector's set across Persona 4 Arena Ultimax and Persona Q Set #2 will include the Tarot Cards of Arcanas XI – XXI
Special Packaging – The first run of Persona Q items will come in a special package.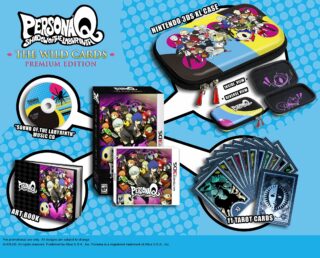 The $79.99 'Wild Cards' edition comes in a special box and includes:
Tarot Card Set #2 – Same as above
Art Booklet – Collection of some of the amazing new artwork that went into Persona Q
Soundtrack CD – CD with the Persona Q soundtrack highlights by the ATLUS sound team
Deluxe Hard Case for 3DS XL – This hard case, previously available only in Japan,is coming to North America and features Persona Q designs and will house a 3DS XL
Persona Q: Shadow of the Labyrinth is due out for 3DS this fall.