Nintendo announces Code Name S.T.E.A.M. for 3DS
New IP from Intelligent Systems due out in 2015.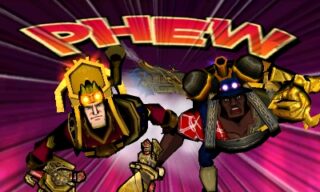 Nintendo has announced Code Name: S.T.E.A.M., a new IP from Intelligent Systems for 3DS due out in 2015.
The London-set, steam-punk, turn-based strategy game features cartoon-style graphics. Hitoshi Yamagami, who worked on Fire Emblem, Advance Wars, and Xenoblade Chronicles, is producing, while Paul Patraschu is directing, and Takako Sakai is leading the game's art.
In Code Name: S.T.E.A.M., players will take command of the unit S.T.E.A.M., a unique army of special-forces soldiers created by Abraham Lincoln to protect the world from an alien invasion.
The game plays out in a third-person perspective, with players moving in turns. It places importance on the use of your four man team's different viewpoints to plan your strategy. It uses action elements from shooters to enhance both movement and attacking, and the touch screen for an "intuitive" control system. The terrain is said to have a lot of depth and reflects the game's variety of strategic choices.
Its fighters run on steam. They each have boilers from which a limited amount of steam can be pulled, giving them a limited number of attacks. The game is structured as a campaign and divided into missions, each with several maps.
Character design is based on American comic books. The developers were inspired by artists like Jack Kirby and Bruce Timm. The main characters' weapon designs are based on the weapon's abilities and an animal motif based on their personality. Each character has a main weapon, as well as a second "sub-weapon." And each character also has a "Special Ability" that can be used once per map.
View the first screenshots at the gallery. Find a fact sheet below.
Get Steamed Up!

Launch S.T.E.A.M., an elite team of steam-powered special-forces soldiers, to save the world from an alien menace. In this new blend of action and strategy, your commandos use steam power stored in special backpacks to move into position and fire an arsenal of distinct weapons. Pick your team members and load out, then use strategy to decide the best way to approach this steampunk-inspired battlefield.

Features

Experience a new, steampunk-inspired turn-based action strategy game from Intelligent Systems, the company behind classics like Advance Wars and Fire Emblem.

Outflank and outshoot the enemy in a fully 3D battlefield. To defeat aliens, you have to take cover, set up ambushes and unleash crossfires and counter-attacks.

An unexpected cast of characters leaps to life in stylized 3D graphics and comic-book-style cinematics.

Harness the power of steam, which plays a vital role to power the world, including powering movement and weapon use. Managing steam reserves is key to strategy.

Battle through alien-infested maps using a four-member team comprised of diverse characters that have unique abilities and weapons.