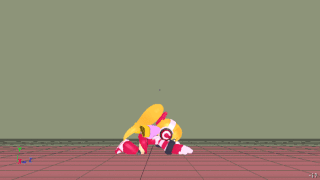 Comcept and Inti Creates have released new gameplay footage and a new look for Mighty No. 9 heroine Call.
The new footage follows last month's work-in-progress gameplay video. Watch it below for a look at a variety of different stages.
Call, who's playable alongside Beck, has also had a style change. This short vignette from Inti Creates designer Yuji Natsume shows off "New Style Call."
Here's first look at Call's work-in-progress in-game model. Unlike Beck, Call can't perform a crouching dash, so she'll use a crawl maneuver instead, which can be used to navigate cramped spaces like ventilation shafts. Additionally, Call has a jet pack-looking light pink object on her back, but Inti Creates isn't sharing details.
Closing off today's announcements, Comcept boss Keiji Inafune will host a panel at Anime Expo next weekend, where he teases he might have "something mighty interesting to share."
Mighty No. 9 is due out for PlayStation 4, Xbox One, PlayStation 3, Xbox 360, Wii U, PS Vita, 3DS, PC, OS X, and Linux in April 2015.