Former Last Guardian and Killzone staffers open Friend & Foe studio, first games announced
Introducing Vane and Dangerous Men.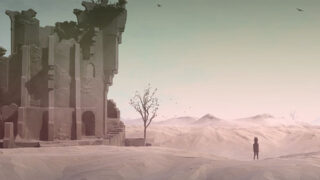 A group of five artists and programmers, who've previously worked on triple-A titles like The Last Guardian, Battlefield 3, and Killzone, have opened a new development studio called Friend & Foe in Tokyo.
The developer is currently working on its first two projects, Vane and Dangerous Men.
Vane is an open-world adventure game based on mystery and exploration coming first to PC, and "others TBA," developed by "a few ex-members of The Last Guardian team." It follows a young boy with an "odd ability" stuck in a dangerous land inhabited by a strange civilization. It focuses on unraveling the mysteries of an unknown land via "exploration, puzzle-solving," and other to be announced features.
Dangerous Men is described as an action arcade game based on 80s buddy cop movies, featuring a "city-wide explosionfest" as detectives Mendoza and InsertNameHere "literally jump from explosion to explosion to clear the city of the Punk Gang menace." Its platforms are to be announced.
Release dates for both games are "when it's done."
View the first screenshots of Vane at the gallery, and some GIFs here.