Atlus announces E3 2014 lineup
It's genius! Can you imagine the step?!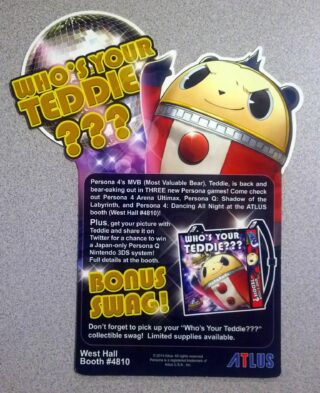 Atlus has announced its E3 2014 games lineup.
The lineup includes:
At the last four E3s—at least, that's all I can remember—Atlus took over the badge inserts at the expo. In 2010, it was Rock of Ages. In 2011, it was Catherine. In 2012, it was Persona 4 Arena and Persona 4 Golden. And in 2013, it was Dragon's Crown.
This year, Atlus is taking over inserts yet again. One side is decorated with Persona 4: Dancing All Night-style Teddie and the other with Persona Q: Shadow of the Labyrinth-style Teddie.
E3 runs from June 10 to 12.