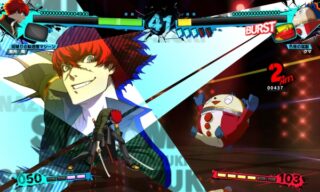 Persona 4 Arena Ultimax will cost $59.99 when it launches for PlayStation 3 and Xbox 360 in North America this fall.
Pre-orders are now open at various retailers. Consumers who pre-order will gain access to special bonus items, which will be revealed at a later date.
Find an updated summary of the fighting game below.
In Persona 4 Arena Ultimax, the characters from Persona 4 and Persona 3 once again find themselves teaming up to face off in the P-1 Climax, a series of battles which must be won before the world ends. The original cast of characters from Persona 3 and 4 are back to discover the mastermind behind the whole tournament, while a few new faces join the fight, including Junpei Iori, Yukari Takeba, Rise Kujikawa, and more. But standing in their way is the dual katana-wielding Sho Minazuki, a huge threat to everyone involved in the P-1 Climax. Worse yet, there's a Sho lookalike who can wield a Persona…

Each playable character in Persona 4 Arena Ultimax is involved in a story mode that continues past their individual games to reveal more about them and how they came to be involved in the P-1 Climax. Persona 4 Arena Ultimax expands on its pedigree as a tournament-caliber fighting game with a new Shadow type with completely different fighting mechanics for each character. Both newcomers and hardcore gamers alike can find the style that works best for their individual style.
View a new set of screenshots at the gallery.