First look at Dezel in Tales of Zestiria
Plus, new battle system and story screenshots.
Famitsu's latest online preview for Tales of Zestiria provides us our first direct-feed look at Dezel, revealed last week as the game's latest character.
Dezel, as previously detailed, is a member of the Family of Heaven who works in the shadows of human society in order to track down and get revenge on the Hyouma who took a friend. He is voiced by Daisuke Ono and designed by Daigo Okumura.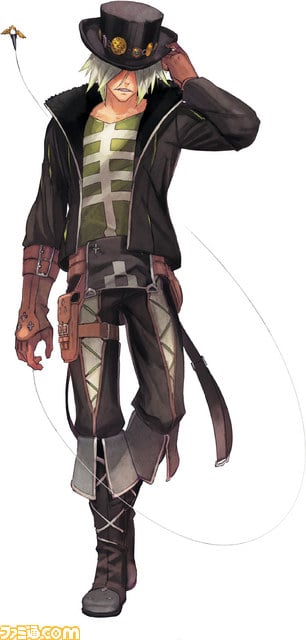 Famitsu also has a look at the game's "Fusionic Chain Linear Motion Battle System." Humans and Family of Heaven members fight with different battle styles. Humans can use Base Artes and Arcane Artes, while the Family of Heaven can use Base Artes and Heaven Echo Artes, but both consume the same type of gauge. The "Around Step" made popular by Tales of Graces will also be incorporated into Zestiria's battle system.
Finally, there's some more story details (and accompanying screenshots):
The true doshi has long disappeared. Its existence is known as a fairy-tale, but the doshi is still the peoples' latent object of worship, which has become a troublesome matter for the statesman over the ages. A group of ministers, who are close to Alishia and know that Slay became the doshi, summon Slay to the royale palace. Here, he witnesses a dark side of human society, one that he can't avoid as someone who deals in humankind's impurities.
Tales of Zestiria is in development for PlayStation 3.