Eiyuu Senki coming west on PlayStation 3
5pb. strategy RPG visual novel will soon be in English.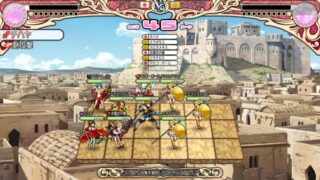 Fruitbat Factory is bringing Eiyuu Senki: The World Conquest to PlayStation 3 in North America an Europe, the company announced.
The Tenco-developed and 5pb.-published mix of a strategy game, RPG, and visual novel features over 70 characters drawn by Oyari Ashito. It is set in an alternate world populated with famous characters of history and legend, who all happen to be beautiful maidens, and tasks players with fighting for world domination.
Find an official story synopsis below.
In a world wherepowerful nations run rampant and heroes battle one another for supremacy, the great nation of Britannia seeks to unite the world through peaceful means while the European Union has adopted an aggressive policy and the Seafaring Nation of Vinland thrives on pillage and plunder. Far in the east, the small nation of Zipang is stuck fast in a quagmire of civil unrest.

In the midst of all this, our memory-loss stricken main character has a fateful meeting with a Hero of Yamatai, Himiko. Together they settle Zipang's internal disputes and set off into a world covered with the burning embers of war.
The game will be a digital-only release, Fruitbat told Gematsu.
View a new set of screenshots at the gallery.