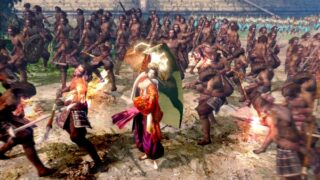 The Australian Classification Board has rated Warriors Orochi 3 Ultimate, suggesting an incoming localization announcement from Tecmo Koei.
The updated version of Warriors Orochi 3 includes the new features from Wii U's Warriors Orochi 3 Hyper, as well as new characters Xu Shu (Dynasty Warriors 7: Empires), Mae Tamamo, Yinglong, a younger Nezha, Kyubi no Kitsune, Hundun, Kasumi (Dead or Alive), Sterkenburg Cranach (Atelier Arland, and Sophitia Alexandra (Soulcalibur. It also adds two new stories, stages, an Unlimited Mode, and more.
The game launched for PlayStation 3 and PS Vita in Japan on September 26, with a PlayStation 4 version planned for June 26.